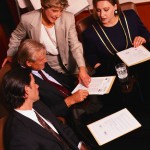 Last week we discussed the importance of having a weekly meeting with your team, and some suggestions to make these meetings productive and help streamline the work flow in your law business.
We've all had to attend meetings (sometimes regularly scheduled meetings) that we simply dreaded.  Since you do want your team meeting to happen every week, the last thing you want is for it to be something your staff does not look forward to.
Here are my tips for what NOT to do with your weekly team meeting time:
Do not assume everyone can stay in the meeting for an unlimited amount of time.  I recommend scheduling 60 minutes for the team meeting, and do your best to keep it within that time frame.
Do not spend the entire time, focused on one agenda item.  Everyone should come to the meeting with a printed agenda of items that everyone has contributed to.  If you see that the discussion of a certain item will take more than a few minutes and your agenda is full, suggest that the members of your team that are involved with that item, have a separate meeting to go more in depth on the topic.
Do not forget to take notes, always appoint someone to be in charge of taking notes (keeping the same person for this each week works well) and appoint someone in charge of reviewing the notes from the previous week and making sure that all open items carry over to the next agenda.
Do not ever use a team meeting to call someone out personally about a problem.  If you are having issues with a team members you or your manager should handle those problems privately.  On this same note if you are having a problem with a team member do not make that obvious during the staff meeting, by you comments, tone, or lack of responsiveness to that staff person.
And do not control the meeting.  You have selected your team because of the talent and gifts that they bring to the table.  When you bring all of those gifts to a meeting of the minds that is conducted in a "safe place" where there are no stupid questions or ideas, your business will benefit from this weekly activity in ways that you never dreamed possible.
Do you have tips that make your meetings more productive, or a staff meeting experience to share, please post a comment, we love to hear from you!