Before I spend any time, money or energy working with a service professional, whether that's a doctor, financial professional or even a contractor for my home…

… I READ REVIEWS.

I scour the internet to read real results that people are having using the services that I'm interested in.  

Most importantly, I want to see CURRENT results.   I don't care what you did 10 years ago. I want to know how you can help me TODAY.

Maybe you're like me.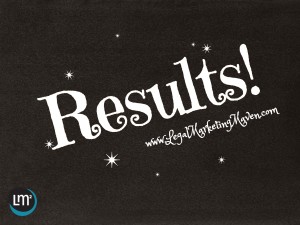 If that's the case and you've been thinking about upping your legal marketing game, which might perhaps mean bringing in some outside help to assist your law firm…

…I'd like to share with you these three messages that I received THIS MONTH from attorneys, just like you.  They are real, current and show that what we do here at Legal Marketing Maven GETS RESULTS.
Laura Lee- as result of one of the newsletters you mailed out for me last weekish, I got a call from the City of xxx (named removed for privacy) and they want me to talk at their Elder Fest.  Details to follow! – CA Attorney


I wanted to tell you that I received a client from the Sandwich Generation Program you created.  My client's brother found me on line for him, downloaded the ebook and read it cover to cover!!  They said the information and questions in there were on point and made so much sense!! Thank you!!!- GA Attorney


I cannot recommend Legal Marketing Maven enough. The materials they provide, and ideas they share, are outstanding. Since I have started, my leads from the web have measurably increased, and – even better – the quality of the leads have improved considerably. – TX Attorney


Had to share – did an exhibit booth today at a well attended event. Came away with twenty appointments set for initial phone consults in the next month, and five full "I'm hiring you" appointments. Plus I have a bucketful of email addresses of people who entered my drawing. This was an exceptionally good day. – TX Attorney
I would love to help you experience increased results with your legal marketing as we head into spring.  There are options to work with us on any marketing budget.  Here are a few ways that we can support you.
Join our Inner Circle Program.  This is our private coaching and accountability group where I teach you and your staff strategies each month to grow your practice and streamline your office.  We have a great network of collaborative attorneys that are always available to give you feedback and share their successes with you as well.  It's only $97 a month and open to attorneys of all practice areas and their staff.  You can take a 30 day trial for only $1!!! Learn more here.


Done-For-You Program- Each month, we create done-for-you marketing campaigns, blogs, newsletters and PR materials for estate and elder law attorneys.  These campaigns are professionally designed to reach a new market each month, ranging from referral sources, local organizations, past clients and other community prospects.  If your team can copy and paste, send mail and follow directions, we'll put everything else in their hands each month that they need to properly market your law firm. If you mention this email I will discount the monthly fee to $797 a month (regularly $997!).  Learn more here.

Consistent Content Package- If you need CONTENT in your law firm, and you really need someone to just take the reigns and DO THIS FOR YOU, our consistent content package is likely a good fit for your firm!  We'll take care of creating your blogs and posting them for you, while managing your SEO on your blogs and blog backend; we'll write you a monthly email newsletter, then professionally design your template in your CRM system for you that will be sent to the clients, prospects and referral sources of your law firm; and, finally, we'll manage your social media including daily postings on Facebook, Twitter, Linkedin and Google +.  This program is open to attorneys of all practice areas and removes much of the burden that you face in creating consistent content and then MANAGING the process of getting it out to your network each month!  $897 per month. Learn more here.

Custom private work- We work privately with law firms to handle the legal marketing in their practice that is most important to them, including full seminar management, website management, social media management, campaign creation, copywriting, ghostwriting, email marketing, newsletter creation, direct mail marketing, team training and more.   All you have to do contact me and let me know what you had in mind, and we can work together to create a marketing plan that suits your needs.
We would be honored to join forces with you this spring to kick up the results of your legal marketing.  

Email us today at help@legalmarketingmaven.com and let's set up a time to talk about how we can help.  I'd love for you to be our next success story—and empower you to reach more people in your community that NEED YOUR HELP.  What you do is so critically important, and we want to support your firm's mission and vision.