I'm traveling to Boston this week for the NAELA conference!  It turns out that a bunch of my clients and friends will be in attendance …I'm really looking forward to seeing everyone!
Will you also be there? Shoot me an email back and let me know. I'd love to catch up with you over coffee or a drink.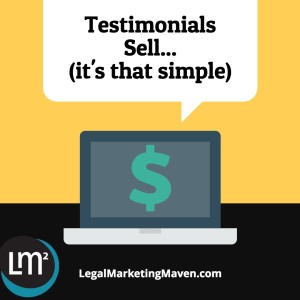 What I'm NOT thrilled about, however, is the weather!  This Floridian is digging through her drawers to find something suitable to wear to the chilly northeast.  So much for spring ;( 
This month in our Inner Circle, we are going hard and heavy on boosting firm testimonials heading into the summer.  
Testimonials are so much more than warm, fluffy, nice things that clients have to say about you.  
Please understand that TESTIMONIALS SELL.
The last three professional service providers I hired were 
specially chosen because of the reviews I read about him or her online.
  I looked at their google reviews, I looked on Yelp—then I hopped over to social media to see what was posted there. 
People are typically afraid to hire lawyers, and having the ability to experience what friends and neighbors think about your practice matters.  If you are not generating testimonials each month in an ETHICAL WAY, you are losing out on business to the competition.  It's that simple. 
As a caveat, 
I say ETHICAL because testimonials must be solicited a specific way
 in order for them not to violate bar rules, as well as online Terms of Service.  For example, many sites will NOT allow you to hand a client an iPad in the office for them to leave a review on the spot.  If you are caught, you lose your entire account and all of your hard earned testimonials with it. 
So, if getting more testimonials THE RIGHT WAY is something you are interested in, check out the featured article below for some ideas. You can also get into our 
Inner Circle Accountability Mastermind Group for just $1
 so that you can take part in our trainings, or grab our entire Testimonial Process campaign where you can download the exact website copy, get a fully designed postcard that can be sent out after you finish up client services, and other marketing materials our attorneys use to put the solicitation of reviews on AUTOPILOT.  It's normally $497 but during this "training focus" you can 
grab it for $197.
Let me know how I can help, 
Laura Lee    
3 Easy Ways to Get Testimonials
Social proof is the psychological experience describing people's reliance on the feedback and actions of others to determine what is right or wrong. There are a number of studies that show that upwards of 90% of people surveyed are likely to trust the recommendations of others, even if they don't know them. 
Social proof has been used in the marketing world for many years in the form of testimonials, reviews and referrals. The rise of social media has media has enhanced the importance of social proof because feedback from real people is more easily accessible than ever before. So, how can lawyers take advantage of this phenomenon? 
I know, just the thought of, asking for testimonials makes many lawyers squirm. But really, it is easier than you think. 
Here are a few easy ways to get testimonials: 
1.    Make it as easy as possible!
One really effective technique for requesting testimonials is to do most of the work for them. You can write a note with some example testimonial statements. The example statements will serve as inspiration for them. Also, you can provide links to review sites such as Google, LinkedIn or Avvo. With just one click they can begin writing. Easy peasy! 
2.    Flattery gets you everywhere!
I'm not suggesting that you inundate them with insincere praise and adoration. Just be sure to let them know why you chose to ask them. If you are asking them because they are influential in your community, tell them! A few kind words can go a long way. 
3.    Write down off-the-cuff compliments.
When you are working with clients, keep a keen ear open to listen for compliments about your services. If they let you know that your paralegal went above and beyond, write that down. When their matter is winding up, you can remind them of the compliment they shared and then ask if you can use that as a testimonial. 
These are just a few ideas for getting testimonials. If you have any other ideas, I'd love to hear them. Just leave a comment below and let me know what's worked for you.