I've been on a lot of calls the past two weeks about the "NEW" Done For You Marketing Program for Estate and Elder law attorneys that I told you about. Seems the new price point and the ability to choose the campaign you want was exactly what everyone wanted!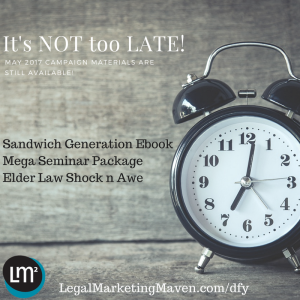 Many of the attorneys I spoke to however, wanted to SEE the materials that they would be receiving. I thought maybe you might too so I recorded a quick video (less than 15 min) showing you the three campaigns for May. You can watch it here.
There is still time to get your hands on the May materials, just head over here and fill out the form so we can see if your area is available (we don't work with competitors!). If it is we will send you a link to purchase and choose your campaign. It really is that simple!
Let me know if you have additional questions.
Laura Lee
PS: There are no long term commitments in this program, it is a month-to-month plan.