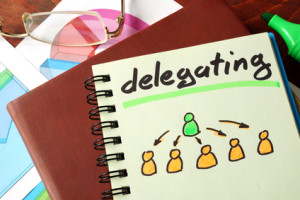 I happened to pop into a Google Hangout last week to listen to a talk given by Anne McKevitt, a global celebrity and international business coach.
You've probably never heard of her before, but here's why you should care.
Anne has worked behind the scenes to help grow celeb brands, businesses and initiatives of household names such as former President Bill Clinton, Beyoncé, Jay Z, Gwenneth Paltrow, Harvard University, and on and on.
Publically, her fame was more across the pond, as she was affectionately known as
"England's Martha Stuart" and spent many years on TV there.
Today Anne is a SELF-MADE billionaire (with a B), and recently sold one of her ventures to the tune of $975 Million Dollars. (Um, yes please!)
Here's what struck me about her story.
When the interviewer asked what the "secret sauce" of her success was…
…she answered WIHTOUT HESITATION (in her thick Scottish accent) that she had "learned to become a master delegator, and that was all there was to it."
Turns out, when she bought her first apartment in London at age 23 and set out to "fix it up," she literally had to open a MasterCard and go everyday to the ATM to pull out cash against it in order to scrape together a down payment for a mortgage.
Then, because she had NO skillset to design or flip a property on her own, she was forced to become the queen of DELEGATION.
She had to learn on Day 1 how to not only build a competent team, but to inspire and motivate them to get the job done according to her satisfaction and her timelines, without actually doing any of the work herself.
(That little apartment project eventually sparked a huge celeb bidding war between the Editor of Vogue and a household-name American billionaire. Obviously she learned how to delegate to the right team!).
As she began to grown her property design business, and delve into other ventures, she recalled that she was never able to add another "zero" to the bottom line of what she was working on until she could totally step back and DELEGATE just about everything outside of her unique zone of genius.
So, let's back up and and talk about you.
Think about how becoming a "master delegator" could rapidly change the size, success and scale of your law firm.
What if you could finally let go of those tasks in the office that take so much of your time and energy away from legal work?
And wait, what if you weren't afraid to spend the money on support staff, either?
What if instead of suffering with that financial elephant on your chest, you began to see spending money on support staff as EMPOWERING because you KNEW it was the key to eventually freeing up your time to do bigger and better things for your practice?
Let me inspire you today to get the ball rolling in this direction, right here and right now.
What is ONE thing you can delegate THIS WEEK to someone else to free up your time, energy and mental capacity?
Really, there are tasks on your plate RIGHT NOW that do not require your oversight or attention to get them done.
Oh… and please know that the world will not end if your staff members can't do it as "perfect" as you, either.
The won't. Until they know how. So…
…train them, invest in THEM, so they can set you free to add another zero to your bottom line this year.
Could you stop answering the phones?
Could you outsource some of your marketing?
Could you quit messing with payroll this month?
Stop answering non-essential emails?
One thing—that's all I'm asking for.
Breathe—you can do it. When you get scared, think of that zero. It's freeing and motivating.
When you decide what you are delegating this week, hit "reply" and tell me what you've chosen.
I'd love to cheer you on and support you as you move forward as the master delegator in YOUR practice this month.
***************
The Joy of Delegating
No one needs to tell you – lawyers are busy people, especially if they run their own practice. Sometimes, they're so busy running their practice, they don't get to spend too much time doing what they got into law to begin with: helping people achieve the best outcomes possible and providing peace of mind that their affairs are in order. And that's where delegating comes in.
Building a confident, cohesive team that you can depend on to run your law office while you focus on helping your clients will put you on the path to success. In order to do that, though, you need to learn which tasks you can delegate and choose the right people for the job. Here are some of the key tasks you'll want to delegate in order to build that successful law firm you've always dreamt of:
Accounting
One of the most important tasks to delegate in a law firm is accounting. Why? Because that's how you get paid! I don't know how many lawyers I've spoken to who are constantly seeing clients, but their cash flow just doesn't reflect that fact. Managing invoices, accounts payable, trustee accounts, and payroll is a huge task – especially on top of all the legal work that comes along with being a lawyer. Hire a bookkeeper – full-time, part-time, or even virtual –and you may see an increase in your finances and, just as important, a decrease in your stress levels.
Phone Calls and Paper Work
How much of your day is spent taking phone calls or filling out paperwork? A competent administrative assistant can definitely help in this regard. You need someone who can handle difficult phone calls, answer a wide range of questions (and also know when not to answer a question), and take care of the mountain of paper work that comes with running a law office. If you're running your office on a budget, consider hiring a virtual receptionist to pick up the phone for you.
Intakes
Separating the good potential clients from the bad can be a time-consuming process, and one that requires a person skilled at intakes. You don't want to bring in every person who calls – you'll spend all your time in initial consultations that never go anywhere. And obviously, you can't be TOO picky otherwise you'd never see any clients. A good intake specialist can make or break your business, so fill this role carefully.
HR
You went to law school to become a lawyer, not a manager. Let someone else handle employee disputes, vacation requests, and all the other little day-to-day things that keep you from focusing on the practice law. Give them enough input so they know how you want your firm to run, then let them have at it!
If you want to talk more about delegating tasks in your law office and freeing up your valuable time, please feel free to email me here or schedule a call.