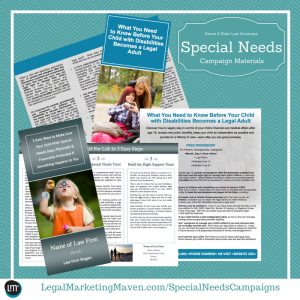 Spring is a unique marketing time for attorneys that serve parents with disabled children.
Autism Awareness Month
is just around the corner, and local organizations and groups are looking for legal experts to help educate their members on the importance of legal planning.  There are events and workshops being planned RIGHT NOW that you should be apart of!
High school seniors with disabilities are getting ready to graduate soon,
and many parents are beginning the process of filing for guardianship.  Now is a great time to start educating parents and schools in your community on the steps to take when a child with disabilities turns 18 to retain complete legal and financial control.
These same parents of high school seniors are making plans for adulthood. 
They need your help to put legal plans in place that ensures their child is able to stay as independent as possible after graduation, that they are financially protected, that they are accessing resources and benefits as a soon-to-be-adult, and that their transition to the next phase of their life is a smooth one.
We know that your service to parents in these areas is an important one;
we have loved ones with disabilities and special needs here at Legal Marketing Maven
and can't imagine life without a trusted attorney by our side.
We want YOU to be able to give this same peace of mind and confidence to others in your community.  
To help, we are releasing TWO campaigns that you can use to market to parents of disabled children.

We've created everything in such away that you can be ready to roll with each piece in under two hours.  No need to hire designers, no need to hire copywriters and no need to distract your staff with the task of create marketing materials when they could be serving your clients.

The first offers materials specifically for parents of teenagers that are now beginning to plan for adulthood.   

The second is for general special needs planning that you may do at your law firm.

We are offering them completely a la carte, meaning that you can access all of the materials, design files and professional copy without signing a contract or joining a thing with us.

As long as we are not currently working with someone in your area, we'll send you a secure link where you can access your campaign materials as soon as you fill out the form under your desired choice on this page here:
I hope that you'll take the time to review the campaigns, as well as the bonuses we are offering.   The press release that I'm giving you as a gift has been very successful in landing our clients media coverage for special needs planning. That release, as well as a pitch letter to your local journalists, is yours when you order a campaign.
Simply go here now to reserve your materials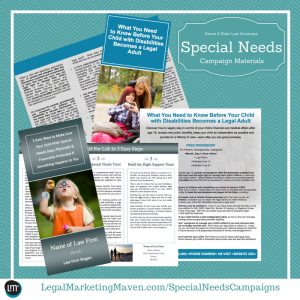 If you have additional questions or you'd like to schedule a go-to webinar to see some of the campaign pieces in more detail, simply
send us an email
 and we'll schedule a time to meet.
P.S. The bonus press release is ONLY available until 3/10!  I'm setting a deadline on it because you need to get it pitched and now is the time to do it.  So don't procrastinate.