If you think blogging for your firm is dumb, overrated or a waste of your time, you are not alone. Probably the number one request we get here at LM2 is to help attorneys with blog content because they hate it.
It doesn't negate the importance of blogging, though. Fresh content helps you rank better for SEO purposes. It makes it easier to share your content on social media with people right in your local community. And, it positions you as a legal authority in the eyes of potential clients and the press.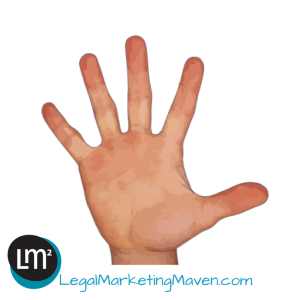 My top recommendation is to look to your inbox.
You receive questions from potential clients every single day. Their problems are phrased to you in their language, using "non-legal" jargon, and they are referencing very specific information that maybe they were not able to find online. Jackpot! Those questions and your responses to those questions make for wonderful blog posts. They practically write themselves.
Plus, in the future, someone else will likely be seeking the same information in the search engines, and it will be your website that pops up if you take the time to address the issue!
You don't need to write an entire dissertation on the question either. You can even give the question a title and format it like a Q & A. Here's an example:
Title: Can My Mother Disinherit Me?
Question: My mom is threatening to cut me out of her will, can she do that?
Attorney Answer: Then provide your answer here. (Obviously you'll clean this up a bit to make your answer general so that it does not appear to be specific legal advice).
Remember, people don't click on attorney blogs looking to read random dissertations. They have very real problems and they are looking for immediate answers to their questions. Using questions as blog posts gives your clients what they want and makes life easier on you at the same time.
If you are struggling to come up with additional ideas for posts, see my featured article below for some pointers. And, of course, you can always recruit our team to help you out in the blogging department if and when you are ready to delegate!
Have a great week,
Laura Lee
5 Tips for Generating Content for Your Blog
in 15 Minutes or Less!
Maintaining and regularly updating a blog on your law firm website is a great way to increase website traffic. However, writing content for your blog can seem overwhelming. But when you use these 5 tips, it is really much easier than you think to create interesting content for your blog.
1. Use The News
Ideas for content are all around you. All you have to do is watch the news and keep current on emerging issues relating to your practice. Use any recent developments in your practice area, such as important court decision or issuance of new regulations.
2. Don't Be Too Lawyer-ish
This is not the place for serious in-depth, technical articles. Don't write about topics like you did in law school. Keep it short and write about issues in layman's terms to make it more appealing to your blog readers.
3. Have a conversation
In writing, it can be easy to forget we are speaking to real, live people. Write your blog post as if you were discussing the issue with a (non-lawyer) friend. Most people find it easier to write that way and you'll have the added benefit of improving the overall reading experience and increase engagement of the reader by using conversational tone.
4. Stick To Your Niche
It is tempting to try to cast your net wider by writing about several different practice areas, but we find that it is more effective to focus on your niche. This will make your writing process easier and it will position your firm as an expert in your specific practices areas which will build trust for potential clients.
5. Think Beyond Text
You can have a powerful impact by incorporating visual elements into your blog. A simple graphic or image can draw attention to the blog article and will increase readership.
Blogs are a powerful way to increase traffic to your website, but they really must be regularly updated. If you keep these 5 tips in mind, you should be able to generate content quickly and easily. So, why not plan an hour this week to do several. In terms of ROI, it could be your most valuable marketing hour of your week!
If you are having trouble staying consistent with your blogging, you may want to check out our Consistent Content Program where each month we write and post custom blog content, write and manage social media updates and write and manage an electronic newsletter for you! It puts all of your content generation on autopilot, you simply read, approve and let us make it happen!